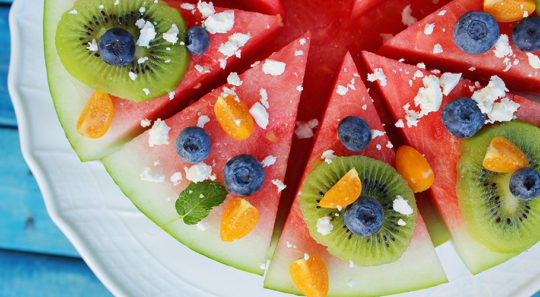 30 Aug

3 BACK-TO-SCHOOL SNACKS YOUR KIDS EYES WILL LOVE

Have your children start the school year off right by sending your kids back to school with these delicious and fun eye healthy snack!

By making a few simple changes in your child's diet you can take the steps to improving your child's eye health every day. Eating foods high in lutein, vitamin A, vitamin C, vitamin E, omega-3s, and zinc can simply do this by helping prevent the eyes from having vision-threatening diseases.

Here are three eye healthy snacks to send your kid to school with this upcoming September!
KID-FRIENDLY WATERMELON PIZZA
Watermelon is full of beta-carotene, which is extremely healthy for your eyes and is converted in the body to vitamin A. Vitamin A along with lycopene helps produce the pigments in the eye's retina and provides protection against macular degeneration, night blindness, and other age-related eye problems.
Additionally, watermelon has vitamin C, lutein, and zeaxanthin that are essential to keeping your eyes healthy and free from different types of infections.
It is recommended to eat one cup of watermelon a day to improve your overall vision health. Make this daily serving a bit more fun to eat by making a watermelon pizza, topped with your child's favorite fruit.
HOW TO
Step One: Find a knife with a blade that is longer then the melons diameter.
Step Two: Cut the chilled melon into thick slices. Each melon usually makes about five slices.
Step Three: Choose your toppings.
Our favourite renditions of watermelon pizza!
THE CLASSIC- KIWI, BLUEBERRY, MANDARIN ORANGE
The classic watermelon pizza contains all pieces of the classic fruits that are also beneficial to your vision. The nutrient packed kiwi fruit are perfect to fight against an array of eye diseases like cataracts and macular degeneration, while nutrient packed blueberries aid in the overall health of the body in addition to ocular health. Mandarin oranges contain high levels of vitamin A ensuring good night vision as well as visual acuity.
KALE CHIPS
Dark green leafy vegetables contain high levels of lutein and zeaxanthin, both are important nutrients in preventing the damage of cells. Lutein and seaxanthin pigments are located in the back of the eye, and keep that section well nourished to maintain regular physiology at the back of the eye. In essence they act as sunglasses, protecting the retina from damage.
Although raw kale may not be your child's first choice as a healthy snack, tossing it in some olive oil, sprinkling with some salt and calling it a chip may change their views.
Kale chips are a great back-to-school snack that can be topped with your child's favourite popcorn seasoning to help them fall in love with the taste.
HOW TO
Step One: Preheat an oven to 350 degrees F (175 degrees C). Line a non-insulated cookie sheet with parchment paper.
Step Two: With a knife or kitchen shears carefully remove the leaves from the thick stems and tear into bite size pieces. Wash and thoroughly dry kale with a salad spinner. Drizzle kale with olive oil and sprinkle with seasoning salt.
Step Three: Bake until the edges brown but are not burnt, 10 to 15 minutes.
Step Four: Toss in your child's favourite popcorn seasoning.
HUMMUS AND VEGGIES
Chickpeas contain high levels of zinc that is beneficial to the part of the retina called the macula. Zinc enables vitamin A to create a pigment called melanin, which protects the eyes. Zinc is very important to have in a child's diet as zinc also benefits the normal development of the eye.
Pack your child a scoop of hummus with veggies or pita bread. The kids will love dipping into the hummus, and you will love the benefits they receive from the snack.
For more tips and tricks on incorporating eye healthy foods into your diet checkout our blog – Pack Your Day Full Of Eye Healthy Foods
[/bt_text][/bt_column][/bt_row][/bt_section]