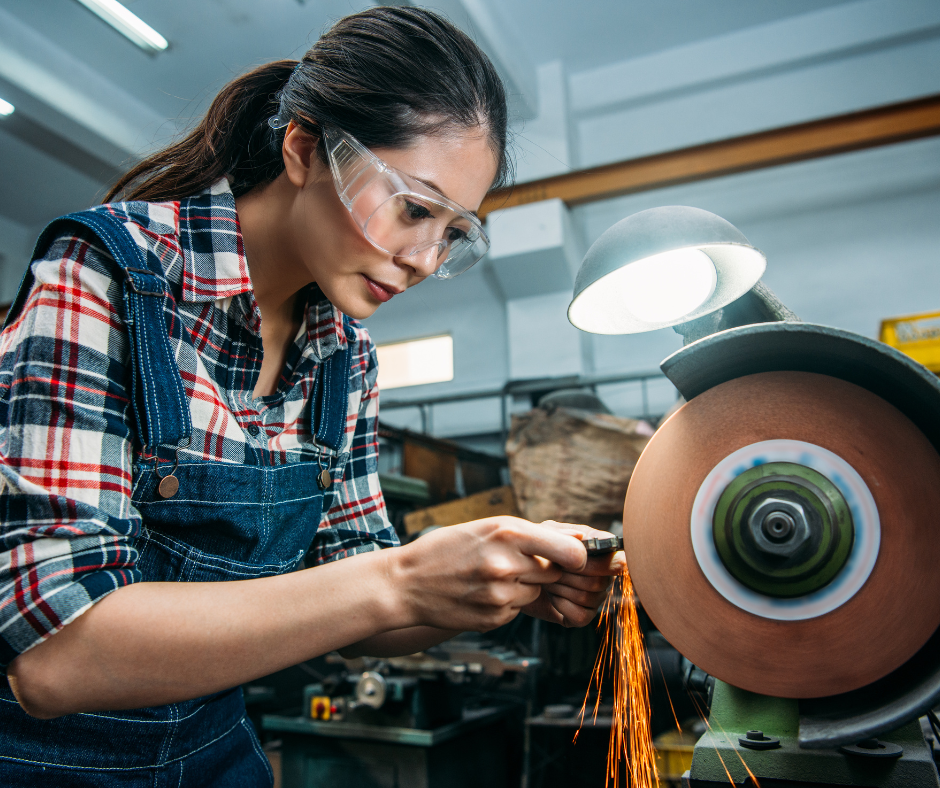 15 Sep

3 Common Eye Hazards In The Workplace

Workplace safety should always be at the top of your priority list when going into work. No matter how hazardous your job may be, there is always the risk for eye injury. While working in an office is different than working in a construction site, these 3 eye hazards are more common than you might think.
1. Particles
Particles from any workplace environment can get trapped in your eye. If you work in an office, particles such as dust, dirt, or other debris might enter your eye. Even simple things like pencil shavings could accidentally enter your eye. For construction workers, the particles that enter your eye could be more harmful. For instance, wood chips, metal shavings, and pieces of cement can easily be kicked up and can lodge directly into your eye. To prevent this from occurring, always be aware of your surroundings… and if you are working at an active construction site, be sure to always wear safety goggles.
When an unknown particle becomes lodged into your eye, you might experience foreign body sensation. This symptom usually includes feeling sharp pain in your eye, along with irritation and burning. While your first reaction might be to itch your eyes, it is extremely important to resist this temptation. The first thing you need to do is wash your hands with soap and water. Once they are clean, you can clean your eye out by using artificial teardrops, saline, or if necessary, running water. If none of these solutions work, call your optometrist at your earliest convenience, so you can find an alternative solution.
2. Tools
Tools of any type can cause an eye injury to workers. Those who work in the trades are consistently using tools and machinery, which could malfunction or break. In fact, many eye injuries occur due to faulty tools. Tool injuries might be even more serious than particle injuries since tools can cause puncture wounds to your eye.
Puncture wounds from tools can be easily avoided if you are wearing the appropriate safety gear. However, if you happen to forget your protective eye gear and suffer a puncture wound from a tool, it's crucial to take serious measures to avoid further damage to your eye. Although your eye will be irritated and itchy, do not rub your eyes! Also, never try to remove the piece of the tool from your eye, as this could cause further damage. Instead, contact your optometrist right away to set up an emergency appointment, or visit an emergency room.
3. Chemicals
Chemicals are often used on the job on a daily basis, and their toxicity can range from bathroom cleaners to deadly chemical mixtures in a lab. Wherever you work, chemicals will be present, and it is important to be aware of them. If any chemical does get in your eye, you will most likely experience burning, eye redness, and swollen eyes.
When a chemical enters the eye, it is crucial to act fast, otherwise you risk blindness or other damage to your body. Most workplaces that use chemicals daily have eyewash stations, and you should always be aware of their locations. Wash your hands thoroughly, then open your eye above the eyewash station and flush it out for 15 minutes. After this, seek medical attention immediately, so that a doctor can provide you with a diagnosis and a treatment.
If you are worried about these 3 common eye hazards in the workplace, it's important that you wear the proper equipment to avoid getting injured. To learn more about how to handle an eye injury, contact our optometry team at Dr. D'Orio Eyecare today! We can help you understand why wearing protective eye gear is so important in the workspace. To book an appointment today, visit https://drdorioeyecare.com/book-appointment/ or call us at 416 656 2020 for our Toronto location, or 416 661 5555 for our North York location.