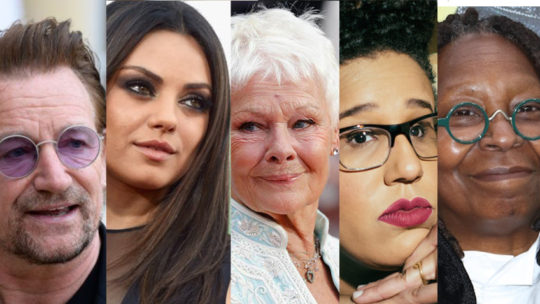 08 Oct

5 Celebrities You Never Knew Had Eye Diseases

Although being diagnosed with a serious (or even a mild) eye condition can be frightening, there is always something that can be done to attempt to heal, treat, or slow the condition. People get diagnosed with different kinds of eye issues everyday, regardless of their shape, size, race, wealth or other factors. In fact, even famous celebrities get diagnosed with different eye problems. Here are 5 celebrities you probably didn't know suffer with eye conditions:
Mila Kunis
This famous television and movie actress is blind in one eye due to chronic iritis (a condition of inflammation of the uvea/ iris (the coloured part of your eye). Causes of this condition are uncertain, however, it is usually linked to risks such as injury to the eye, infections, genetic predisposition, sarcoidosis, and even certain medications.
Judith Dench
Judith Dench is known for her starring roles as Queen Victoria in Mrs. Brown and M in the James Bond films. Throughout her huge roles and successful career, she developed age related macular degeneration, a condition that causes vision loss related to the deterioration of a portion of the retina (the macula).

Bono
You might not know it because he's always hiding behind sunglasses, but lead singer of the popular band U2 has been living with glaucoma for the past 20 years. He wears his sunglasses almost everywhere to help with the light and glare sensitivity caused by the condition.
Whoopi Goldberg
Beloved actress and co-host of 'The View', Whoopi Goldberg developed glaucoma as she aged. She has stated in many instances that she suffers from painful headaches and pressure in the eye due to this condition.
Brittany Howard
Brittany Howard, lead singer of Alabama Shakes, became blind in one eye due to the eye cancer called retinoblastoma. She overcame this disease, and did not allow her partial blindness to affect her incredible career and winning 3 GRAMMYs.
When it comes to being diagnosed with eye conditions, you aren't alone. This list of celebrities shows that even those of us that seem untouchable can be affected by vision and eye health issues. Regardless of their condition, their continued success shows that it doesn't have to stop anyone from living an exciting and fulfilling life. If you would like to visit an expert optometrist for an eye exam, visit us at Dr. D'Orio Eye Care. Call or use our website form to book an appointment: 416.661.5555 (North York location) or 416.656.2020 (Toronto location).