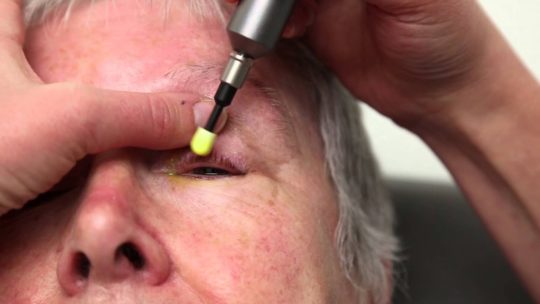 21 Aug

How To Clean Eyelids When You Have Blepharitis

If you suffer from Belpharitis, you know how uncomfortable the state of your eyes can get. This condition is identified by the chronic inflammation of the eye region due to overgrowth of bacteria on the eyelashes.This can make the eyes dry, irritated, and visually unappealing. Thankfully, technology has advanced far in the world of eye health and a new tool has been created to help people who suffer with belpharitis.

This new technology is called BlephEx. It is a revolutionary, patented new tool that will clean along the edge of your eyelids and lashes to remove debris, dead skin, or anything else caused by the condition of Belpharitis. This small hand-held device has a medical grade spinning sponge to help relieve people who suffer from Belpharitis.

Dr. D'Orio & Associates recognize that our patients can suffer from a variety of different conditions so we have invested in the best technologies to help you. When it comes to Belpharitis, or simply wanting your eyes cleaned periodically for hygienic reasons, the BlephEx system is the best in the world.

The procedure is painless and entirely safe. You can rest easy in our hands knowing that the BlephEx machine will simply clean and exfoliate your eyelids with a gentle, rotating sponge.  And, it only takes 6-8 minutes!

Never worry about overgrowing bacteria and potential damage to your eyelid and tear glands again. Our in-office Blepharitis treatment can help you get the treatment that you need. If you have Belpharitis, visit D'Orio & Associates, Optometrists in Toronto & North York, and talk to one of our experts to find out if BlephEx is right for you. You can book an appointment online and we'll be happy to assist you.