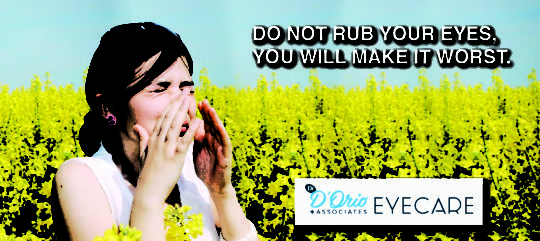 30 Aug

DO NOT RUB YOUR EYES, YOU WILL MAKE IT WORSE

With the change in weather comes an increase in summer allegories'. Rubbing your eyes causes mast cells to release more of those itch-causing chemicals.
SIGNS OF EYE ALLERGIES
Some of the follow symptoms listed below cause summer allegories:
• Redness in the white of your eye or inner eyelid
• itching
• tearing
• blurred vision
• a burning sensation
• swollen eyelids
• Sensitivity to light
HOW CAN YOU GAIN RELIEF?
If you are suffering from temporary pain, you can follow the advice we list below. But if begin to have blurred vision, extreme redness, or feel like there is something stuck in your eye, seek an optometrist immediately.
These things can help bring relief from your itchiness:
• If you wear contact lenses, take them out
• Skip the eye makeup, and apply cool compresses to your eyes.
• Wash your hands often
• Try allegory drops
• Take oral medication or get an allegory shot
• Stay Indoors to avoid further stress on your itchy eyes
Eye allergies can happen alone or with nasal allergies and an allergic skin condition called eczema. The only way to know for sure if it's an allergy is get an allergy test. We advise you visit your local optometrist if you feel that you may be suffering from an eye allegory.
Allergies and eye infections both cause your eyes to feel sore, red and itchy. Often, itchy or irritated eyes can become sore after excessive rubbing. The eye infection conjunctivitis is a particularly common cause of sore, red eyes.
Our dedicated team of professionalscan provide you with the relief that your eyes need today.
[/bt_text][/bt_column][/bt_row][/bt_section]