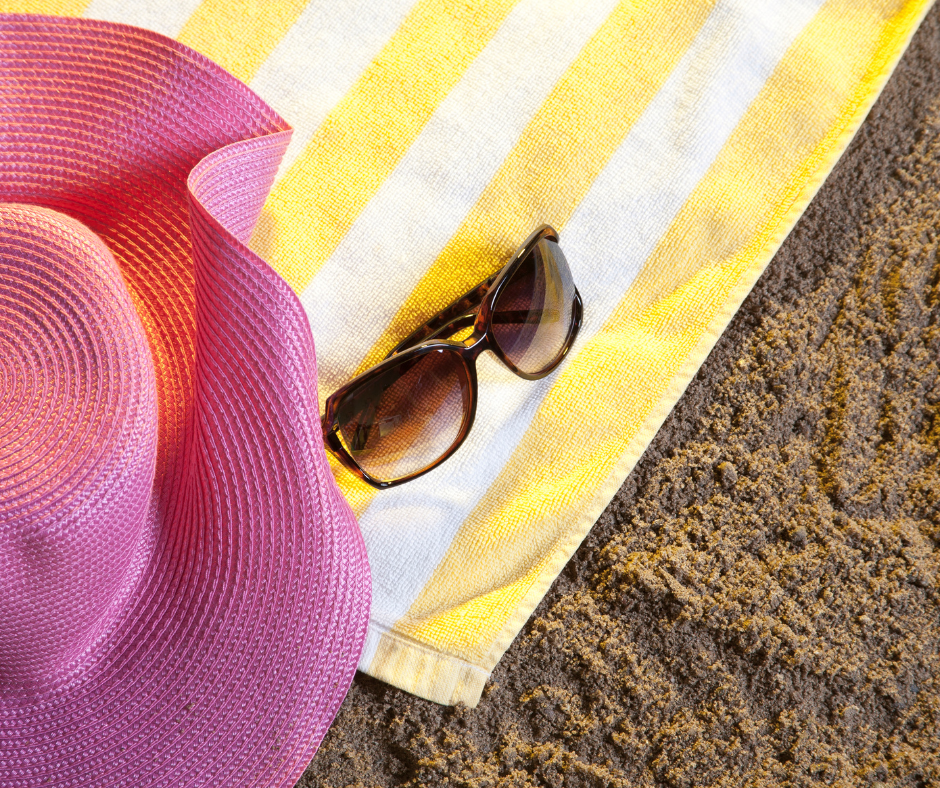 23 Jun

How to Keep your Eyes Healthy at the Beach

Summer is in full swing, and the warm weather means it's time to hit the beach. As you pack your bag for a day at the beach, make sure to keep your eye health in mind. While the beach is a fun-filled destination, a day at the beach can also be quite detrimental to your eyes. Ensure you are taking the proper precautions to keep your eyes healthy at the beach by following these 4 tips.
1. Keep Your Eyes Shaded
The beach is the perfect destination to spend a bright, sunny day. However, while you may be looking forward to spending your time in the sun, you should ensure your eyes are protected from harmful UVA and UVB rays. Always wear sunglasses or a sun hat (or both!) to ensure your eyes are receiving maximum protection.
Invest in a quality pair of sunglasses with broad-spectrum protection to protect your eyes from harmful rays. Polarized lenses will also help to reduce bright reflections and glare.  A wide-brimmed hat can do double duty to further shade your eyes, while also providing additional protection to your face and neck. Wearing a hat will also shade the gap between your face and sunglasses, where even the best pair of sunglasses will let light in. Sun exposure can lead to serious eye conditions such as cataracts, macular degeneration, and even cancer, so it is important to keep eyes protected.
2. Avoid Sunburnt Eyes
Planning to suntan at the beach? Sunscreen is a well-known beach essential, but did you know that your eyes can also be sunburnt? While we can't apply sunblock to our eyes, wearing sunglasses at the beach will also help you to avoid sunburnt eyes.
Common in winter, and often called "snow blindness," sunburnt eyes can occur in the summer, especially when visiting the beach. Like snow, the white, sandy stretch of the beach can reflect and intensify the sun's rays, increasing the risk of sunburn. Sunburnt eyes can cause pain, burning, sensitivity to light, and even temporary vision loss. While the effects of sunburnt eyes are temporary, they are still painful, and can be avoided with proper care and preparation. Keep your eyes shaded, even in overcast weather, to ensure they remain healthy and unburnt at the beach.
3. Wear Goggles when Swimming
As the day heats up, you may plan to take a dip into the water! However, if you plan to swim, it is important that you pack your goggles. Goggles can help you to see under water, preventing water from entering your eyes while you swim. No body of water is fully sterile, and water entering your eyes could contain bacteria, viruses, harmful debris, or other irritants. Goggles can protect these particles from entering your eyes. This is especially important when you are wearing contact lenses, as swimming with contacts increases the chance of infection. Whether you are swimming in fresh or salt-water, keep your goggles on to avoid eye irritations or infections, so that you can enjoy the sea life to the fullest!
4. Protect your Eyes from Sand
You may love the feel of sand under your toes, but you will not like the feeling of sand in your eyes! When at the beach, make sure that you are protecting your eyes from sand particles, which can cause both irritation and damage to your eyes. Do not touch your eyes while you are at the beach, as sand could stick to your hand and enter your eyes. Keep your sunglasses on to protect your eyes against blowing sand, and wear sports goggles to protect your eyes while you are playing beach sports such as volleyball or soccer.
If you do get sand in your eyes, do not rub them! This could cause corneal abrasions, painful damage to the surface of your eye. Instead, rinse your eyes with a saline solution or clean water to flush the particles out of your eyes. If symptoms persist, you should visit your eye care professional as soon as possible.
While the beach is a great summer activity, it is important to keep your eyes healthy to ensure a fun-filled beach day. By practicing proper eye safety, you will be preserving your sight to enjoy many beach days in your future. For more information on how you can keep your eyes healthy this summer, contact the optometrists at Dr D'Orio Eyecare. To book an appointment, visit https://drdorioeyecare.com/book-appointment/ or call us at 416 656 2020 for our Toronto location, or 416 661 5555 for our North York location.