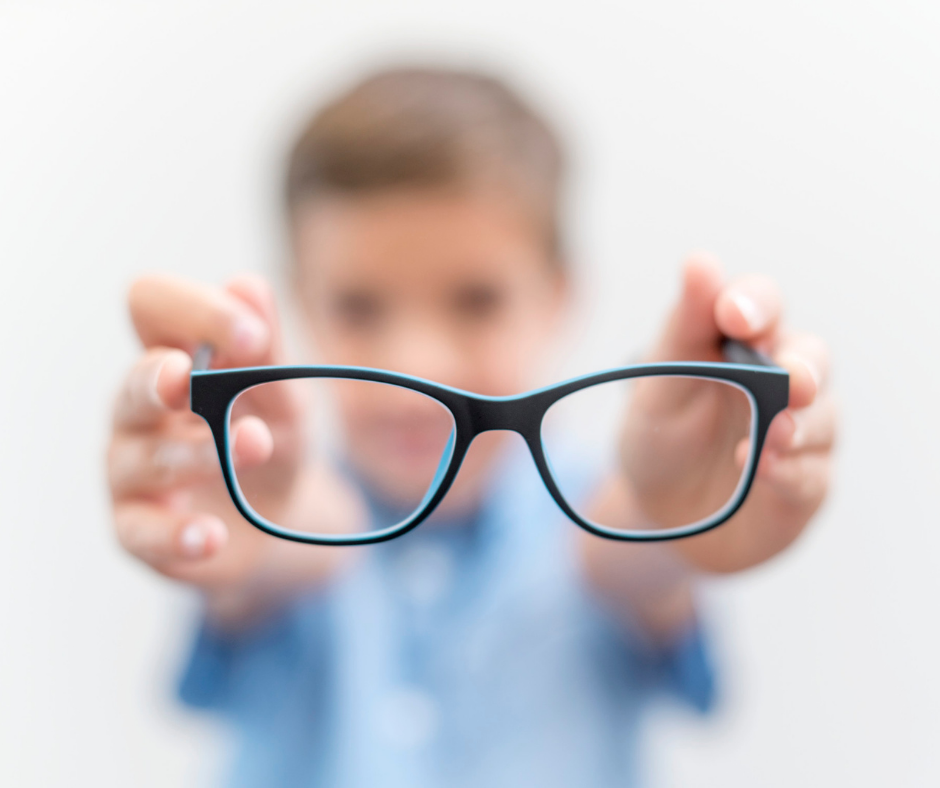 20 Jan

How to Make Children More Comfortable Wearing Glasses

Has your child's most recent visit to the optometrist revealed that they need to wear glasses? No matter the age of your child, the switch to wearing glasses can be a difficult transition. It is important to help children become more comfortable in their new eyewear to ensure proper and consistent wear. But how can you help your child embrace such a large lifestyle change? Read on for some tips on how you can help make your child comfortable in their new glasses.
1. Create Small Goals
It can be difficult to get used to wearing glasses.  Instead of starting your child off with a full day of glasses wearing, allow them to get used to wearing their glasses by creating smaller goals that they can more easily accomplish. Start off by having them wear their glasses for half an hour, and slowly increase the time increments until they have reached a full day.  This can give the child a sense of accomplishment as they reach their goals, while easing them into full-time glasses wear. You can even incentivize reaching goals and making progress with prizes or rewards to further motivate your child.
2. Be a Good Glasses Role Model – and Make Glasses Cool!
Ensure that your child has a glasses-wearing role model to look up to—and who can show them that wearing glasses is cool!  If you wear glasses, ensure that you are modelling good behaviour for your children to mimic—proper usage and care of your own glasses is important.  If you don't wear glasses—or if your child is at the age where you are no longer "cool"—find someone who does wear glasses to be their role model. Whether this is a relative, family friend, celebrity, or fictional character, show your child that even the people they look up to wear glasses.
3. Let your Child Choose their Glasses
Let your child choose their own pair of glasses to ensure that they love them… and love to wear them. Do not try to force your child to wear glasses that appear too young or old for them, or that do not fit them correctly, as they will likely resist. At Dr D'Orio Eyecare, glasses are available in a number of kid-friendly designs and colours. Your child will be happy to demonstrate their own sense of style with their new accessory!
4. Make Sure the Glasses Fit!
While children should be allowed to choose their own glasses, it is important for you to ensure that they fit properly, as well. Children grow quickly, and so will need to frequently upgrade their glasses to keep up with their changing size. Ensure your child's eyewear remains comfortable by regularly checking their size. Your child will be more likely to wear glasses that fit properly and comfortably. Unsure of how to tell if your child's glasses fit? No problem! Regular checkups with your optometrist can ensure not only that your child's prescription remains up to date, but also that their glasses fit properly.
5. Enforce Glasses-Wearing Rules
Wearing glasses can't be all fun and games, however. It is important that children follow rules regarding wearing glasses, in order to build good habits that they will carry with them throughout their lives. Children should learn appropriate care for their eyes and their glasses, including proper cleaning and storage of their eyewear. Let family members and teachers know about your child's glasses goals, so that they can be followed in all areas of their lives, allowing them to adjust more quickly.
Your optometrist can also be used as a good resource for tips to encourage your child to wear their glasses. If they are old enough, have your child speak directly to the optometrist, allowing them to ask their questions while feeling grown-up and in charge.
With these tips in mind, your child will become accustomed to wearing their glasses in no time. A child's eyesight is crucial to their success in school, extracurricular activities, and even their life at home, and proper eyeglass wear can help them achieve the best vision possible. At Dr D'Orio Eyecare, we know the importance of children's eyesight, and strive to provide the best possible experience in our children's eye examinations. If you are looking for a Children's Optometrist in the GTA, contact Dr D'Orio Eyecare today!
The optometry team at Dr D'Orio Eyecare can assist you with your vision needs. To book an appointment visit https://drdorioeyecare.com/book-appointment or call us at 416 656 2020 for our Toronto location, or 416 661 5555 for North York.