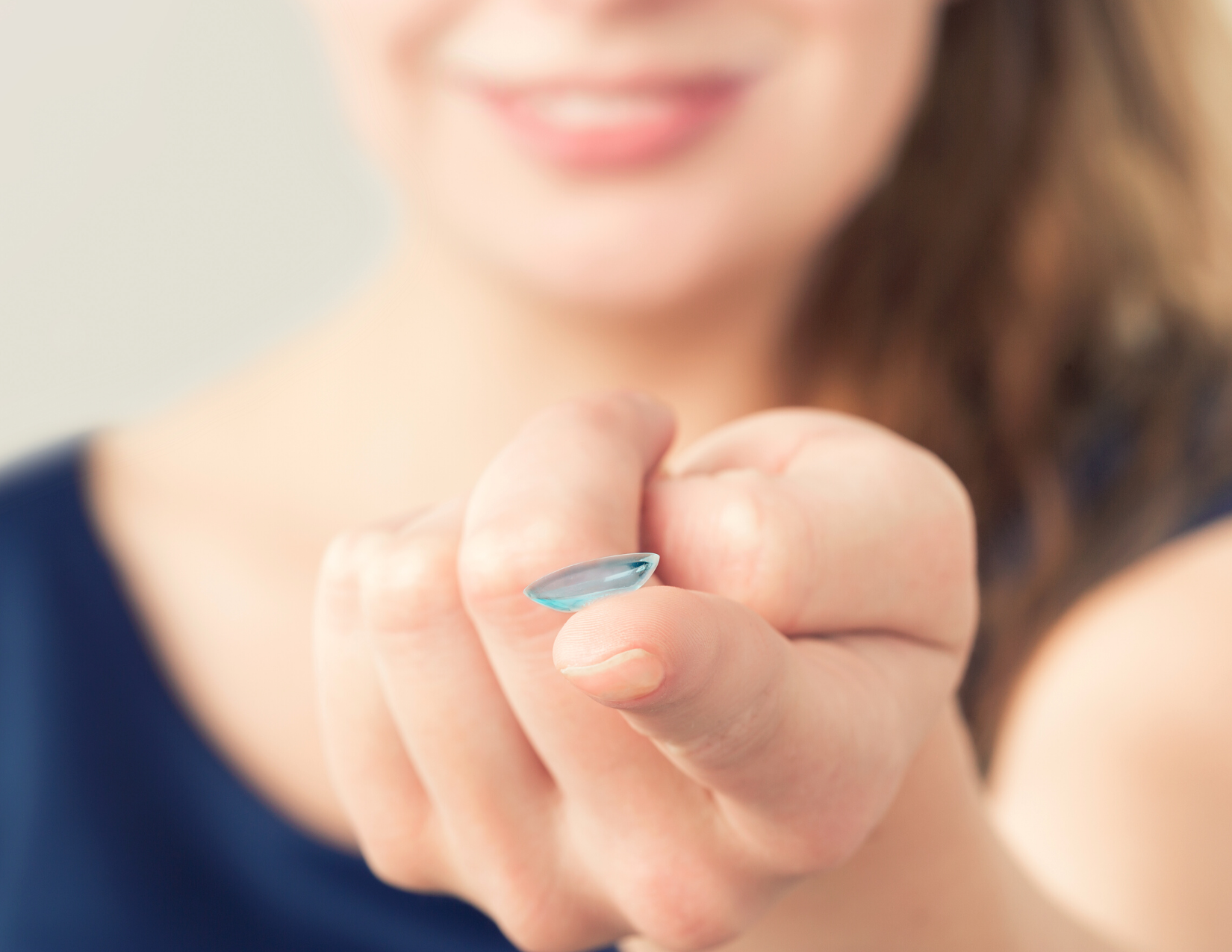 25 Nov

Tips To Help You Remove & Care For your Contact Lenses

If you are a full-time glasses-wearer, contact lenses can change your life, allowing you more flexibility in your day-to-day activities. Last week, we went over some tips to insert contact lenses, helping you to begin using contact lenses confidently and comfortably.

However, there is more to contact lens use than insertion… you will need to be able to remove them comfortably, as well! If you are avoiding contact lenses because you are unsure about how to remove them and care for them, read on to learn some tips on safe removal.

It is also important to be aware of how to care for your contact lenses in order to prevent infection. Eye infections from contact lens wear can become serious problems, leading to corneal damage, surgery, or even loss of vision.
Tips for Contact Lens Removal
1. Keep your nails short, especially when you are still learning to properly remove your lenses. Long nails can scratch your eyes as you pinch your contact lens to remove it, causing irritation or even injury to your eye. Keeping fingernails short while you learn to use your finger pads to remove your lenses can avoid unnecessary injury to your eyes.
2. If you are having a hard time removing your contact from your eye (if it feels stuck to your eyeball), this may be because your eye is dry. Don't panic! Use eye drops to lubricate your eye, or stimulate your tear production by blinking repeatedly. When you have completed these steps, make a second attempt at removing the contact.
3. It may also be difficult to remove your contact when looking directly at your fingers, as you may be tempted to blink or flinch away from your fingers. To solve this problem, when removing your contact first look upwards, then use your finger to slide the contact down towards the white of your eye. Continue looking upwards as you pinch the contact to remove. Voila!
Contact Lens Care to Prevent Eye Infection
While you may now have mastered the art of contact lens removal, it is also important to properly care for your lenses in order to keep your eyes healthy and avoid infection. These tips can help keep your lenses clean, and your eyes infection free, as you continue to wear contact lenses.
1. Keep your contact lenses clean! Make sure that you are cleaning and disinfecting your lenses and your lens case regularly. Use fresh solution daily and discard used solution. Clean your lens cases after every use, and replace them regularly. This will help to prevent bacteria growth and decrease the chance of developing an eye infection. If you are using daily contacts, be sure to wear them for only one day… reuse of daily lenses can lead to eye irritation or infection.
2. Ensure that you remove any makeup and wash your face before removing your contact lenses. This will help to ensure that you are keeping your lenses free of contamination from bacteria or foreign matter.
3. Do not sleep in your contact lenses. Many contact lens wearers have fallen asleep in their lenses, and wake with nothing more serious than eye dryness or excess mucus buildup. However, sleeping in contacts can significantly increase your chance of eye infection, even if the lenses are technically approved for sleep.
4. Follow the directions of your eye care professional when determining amount of time that you will wear your lenses, as well as the type of contact lens that you wear. Each eye is different, and will have different fit and wear requirements in order to stay healthy.Your eye doctor will be aware of your individual needs, and can recommend the proper lens for your eyes to stay at their healthiest.
If you are considering contact lenses, there is much to consider. Whether you are nervous about inserting or removing contacts, aren't sure of the proper way to care for them, or are simply unsure whether contact lenses are right for you, your eye doctor is your best resource for advice and directions. If you find that you are experiencing discomfort wearing your contact lenses, remove your contact lenses immediately and contact your eye care professional for a checkup and treatment.
The optometry team at Dr D'Orio Eyecare can assist you with your vision needs. To book an appointment visit https://drdorioeyecare.com/book-appointment or call us at 416 656 2020 for our Toronto location, or 416 661 5555 for North York.