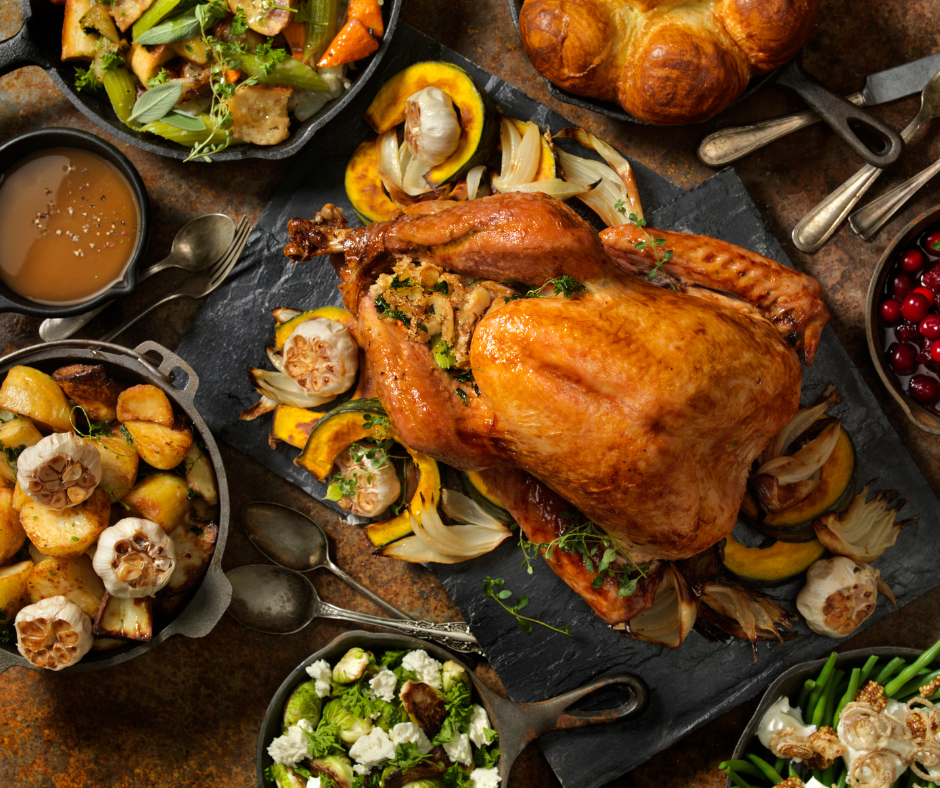 20 Dec

How to have an Eye-Healthy Holiday Feast

The holidays are a time full of fun, socializing, and… eating! It is no secret that for many, the holiday season means a number of decadent, extravagant, and generous feasts. But just because it's the holiday season, it doesn't mean you need to stop promoting your eye health. Whether you are preparing your own holiday feast, or attending as a guest, here are some delicious foods you can indulge in while keeping your eyes healthy!
1. Appetizer: Cheese
Cheese comes in many unique shapes, forms, and flavours, and can be a standalone appetizer or incorporated easily into something more complex. It is a great appetizer choice for any holiday celebration. Not only is cheese a delicious and flexible ingredient, but it is also quite healthy for your eyes!
Cheese is nutrient-rich and is a great source of not only calcium but also Vitamin A, B12, phosphorous, zinc, and more. It is also rich in antioxidants and Omega-3 fatty acids, all of which are essential for maintaining healthy eyesight. Further, Vitamin A1 (Retinol), which is responsible for creating a barrier to protect the surface of the eyes from bacterial infection, is also found in cheese. So, dust off your cheese board, whip up some cheese balls, or add cheese to your favourite holiday appetizer to boost your eye health!
2. Main: Turkey
Move over Christmas ham, there's a new main dish in town! Well, it's not exactly new, but this holiday staple is flavourful and healthy, and does not only need to be eaten at Thanksgiving! Turkey is high in zinc and the B-vitamin Niacin, both of which are essential to strong and healthy eyes. Zinc helps to prevent the formation of cataracts, as well as age-related macular degeneration, and also promotes the production of melanin, which protects the eyes from the sun. Zinc has also been shown to increase night vision… perfect for catching Santa on his yearly visit! Turkey is also high in B-vitamins, which can help keep your eyes lubricated and prevent Dry Eye.
And don't forget to serve your turkey with a side of cranberry sauce! This berry is high in Vitamin C and Bioflavonoids, which work together to reduce the risk of certain cancers, cataracts, and infections. A perfect match! Turkey also does double duty for your health; due to it being high in protein and low in fat, it is a healthy choice for your body as well as your eyes. So don't feel guilty about grabbing a second helping of holiday turkey… or about making yourself a delicious turkey sandwich the next day!
3. Side Dish: Dark Greens
To accompany your turkey, it is important to have healthy side dishes. Ensure one of your sides is a dark green vegetable: brussels sprouts, green beans, broccoli, or spinach will fit the bill perfectly. Dark green veggies are high in Omega-3's as well as Vitamin C and A… they are like a super food for your eyes!
Brussels sprouts, broccoli, beans, and spinach are also rich in lutein and zeaxanthin, which protect the retina and reduce the risk of cataracts and macular degeneration. They can also help block blue-light from reaching the retina, reducing light-induced oxidative damage. If eating these veggies can help boost your retinal strength and prevent retinal damage, what are you waiting for? Include one (or even two!) in your holiday meal this year!
4. Side Dish: Sweet Potatoes/Carrots
Add some colour (and health benefits) to your meal by including an orange vegetable side dish as well! No holiday meal is complete without sweet potatoes, which are rich in beta-carotene, a carotenoid and antioxidant that promotes good eyesight. This veggie is also loaded with Vitamins C and E, and are further protection against the development of cataracts, alongside helping to maintain a healthy amount of collagen in your cornea.
Carrots are another orange vegetable that share many of the benefits of sweet potatoes and are the OG eye health food! Also rich in Vitamin A and beta-carotene, carrots help promote a healthy eye surface. Want the best of both worlds? Why not cook up a delicious carrot and sweet potato casserole?
5. Dessert: Dark Chocolate
If you are a sweet lover, never fear! No holiday meal is complete without dessert! However, when you are planning your decadent dessert, reach for the dark chocolate. Dark chocolate has a higher proportion of cocoa than its counterparts, and cocoa is where many of chocolate's health benefits lie. Dark chocolate can provide a healthy source of iron, copper, magnesium, zinc, manganese, and selenium to the body. It is also full of antioxidants, flavonoids, and flavones. Not only will these benefit your eyes, but your overall health as well!
Choose a chocolate with 70-80% dark chocolate for maximum health benefits. If you are used to milk chocolate, dark chocolate may have a bitter taste at first. But you will quickly begin to appreciate and love its distinct flavour! So, if you want your meal to be healthy from start to finish, swap your chocolate dessert or sweets for dark chocolate this holiday season!
It is important to promote your eye health, no matter the season. Your vision is important and should be maintained wherever possible. While eating healthily can promote your eye health, visits to your optometrist are a crucial step in detecting any eye disorders before they become critical. Book your appointment today with Dr D'Orio Eyecare, by visiting https://drdorioeyecare.com/book-appointment/ or calling at 416 656 2020 for our Toronto location, or 416 661 5555 for our North York location.