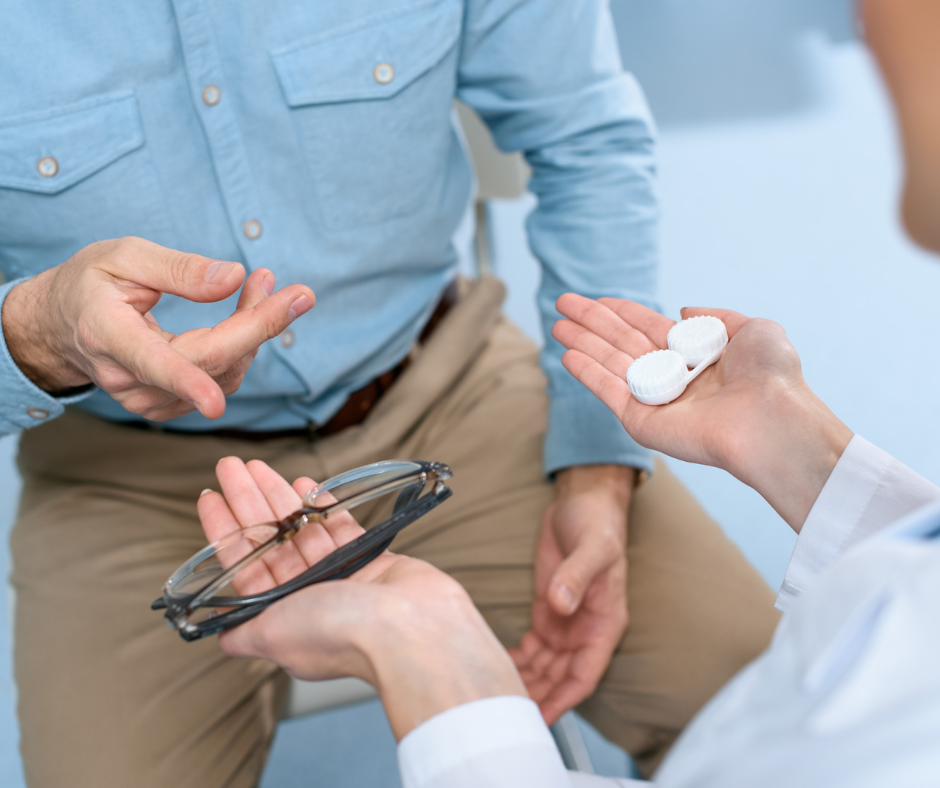 26 Nov

Deciding Between Glasses and Contact Lenses

When choosing between wearing contact lenses or glasses, your first concern is likely your appearance. Wearing glasses can be polarizing; while some people see them as an extension of their personality or styles, others would prefer to never be seen wearing them. Glasses are available in a variety of colours, sizes, and styles, and even the most hesitant glasses-wearer should be able to find something to suit their look. However, while certainly important, the decision between glasses or contact lenses should not come down solely to their appearance.

Instead, the decision should involve considerations such as ease of use, risk of infection, your eyes' condition, and your lifestyle. It is also important to weigh your chosen product's features. For example, did you know that some glasses offer unique photochromic UV light protection and can automatically darken in sunlight? Or that some contact lens types can be worn for up to a month? When it comes to this big decision, keep these factors in mind. Continue reading to learn more about the factors that should go into your decision between glasses and contact lenses.
Ease Of Use
One of the obvious benefits of using glasses over contact lenses is their ease of use. After careful adjustment by an optician, glasses can not only last for years. They can be easily stored and taken on or off without any special attention to hygiene. Glasses can be a convenient choice for traveling, driving or any situation in which you might quickly need to take them on or off. On the other hand, glasses carry a higher risk of getting lost, or breaking, especially during activities such as working out or other intense sports.
Unlike glasses, contact lenses fit directly into your eyes and cannot be removed. You can purchase single or multi-use contact lenses, depending on your preferences and lifestyle. Multi-use contact lenses require daily care, cleaning, and storage. Daily contacts, while more convenient, create more waste. Proper wear of contact lenses allows you to see clearly, as if you do not need vision correction at all, and they are also perfect for physical activity. Another plus is that they do not fog up, which is beneficial when wearing a face mask!
Risk of infection
While contacts may provide you with the convenience of a glasses-free lifestyle, they also open you up to a greater chance of eye infection. While this can be avoided by practicing proper hygiene, if you are not careful you may wind up unable to wear your lenses due to infection or other eye conditions. Be sure to always wash your hands before handling your contact lenses, and follow these tips for proper insertion, removal and care.
One eye condition that increases in risk due to contact lens wear is Keratitis, an infection of the cornea or outer eye covering. Contact lens wear can also put you at a risk for pinkeye, an eye infection including redness, itchiness, and discharge. When considering contacts, your eye care professional will inform you of the risks of contact use, as well as advise you on their proper care. If you wear contact lenses and suspect an infection, remove them immediately, and contact your optometrist. If possible, bring the lenses with you to your eye examination as sometimes a diagnosis can be verified by examining the infected lenses!
Go for Variety!
One thing that both contact lenses and glasses have in common is the variety available! If you want to vary your eyewear usage, you can choose to alternate between glasses and contact lenses depending on the situation. You may find you prefer glasses for work, and contacts on the weekend.
You can also choose to have a variety of contacts and glasses available to you. Glasses come in a variety of styles to suit any occasion. Specialty lens coatings, such as those that block blue light or glare, give today's glasses even more versatility. If you spend time outdoors, prescription sunglasses are also available! Similarly, contacts are available in a variety of colours and effects—just be sure to take proper care of your lenses, and consult an eye care professional when in doubt!
Still unsure whether glasses or contact lenses are right for you? A discussion with your eye doctor will help you decide which product is right for you and your eyes. The optometrists at Dr D'Orio Eyecare are committed to your eye health and will help you make a decision when it comes to choosing between eyeglasses, contact lenses…or both. To book an appointment today, visit https://drdorioeyecare.com/book-appointment/ or call us at 416 656 2020 for our Toronto location, or 416 661 5555 for our North York location.